From battling depression and homelessness to helping carry the Olympic flag to the Tokyo Stadium for the opening ceremonies, weightlifter and refugee Cyril Chachette has an inspiring story he hopes will encourage more than 82 million displaced people around the world.
---
"I thought it was a dream!" He tweeted about his moment in the global spotlight last week, adding that he was proud to represent refugees as well as health workers, as he is now a mental health nurse in the UK.
Chachit, 25, is among the 29 members of the Tokyo Refugee Olympic Team. His incredible journey reveals not only the power of sport to transform the lives of people who have fled their homelands, but also the valuable contributions they can make to their new communities when given the opportunity.
In 2014, after competing at the Commonwealth Games in Glasgow, he left the athletes' village, believing that it was not safe for him to return to his homeland.
Without any clear plans, he ended up in the southern port city of Brighton, where he spent about two months on the streets. The weather was cold, he was struggling to find food and his spirits sank.
"I actually thought about suicide."
"I was 19 in a new town, I was homeless, and I didn't have my mum or dad there to look after me, so I felt really, really weak and depressed in Brighton," he said in an interview with Eurosport. "I've already thought about suicide."
Seeing the hotline number for the Samaritans, a charity that provides emotional support, Tchatchet called them. One of the volunteers called a police car to pick him up, at the police station he explained his situation and the asylum application process began.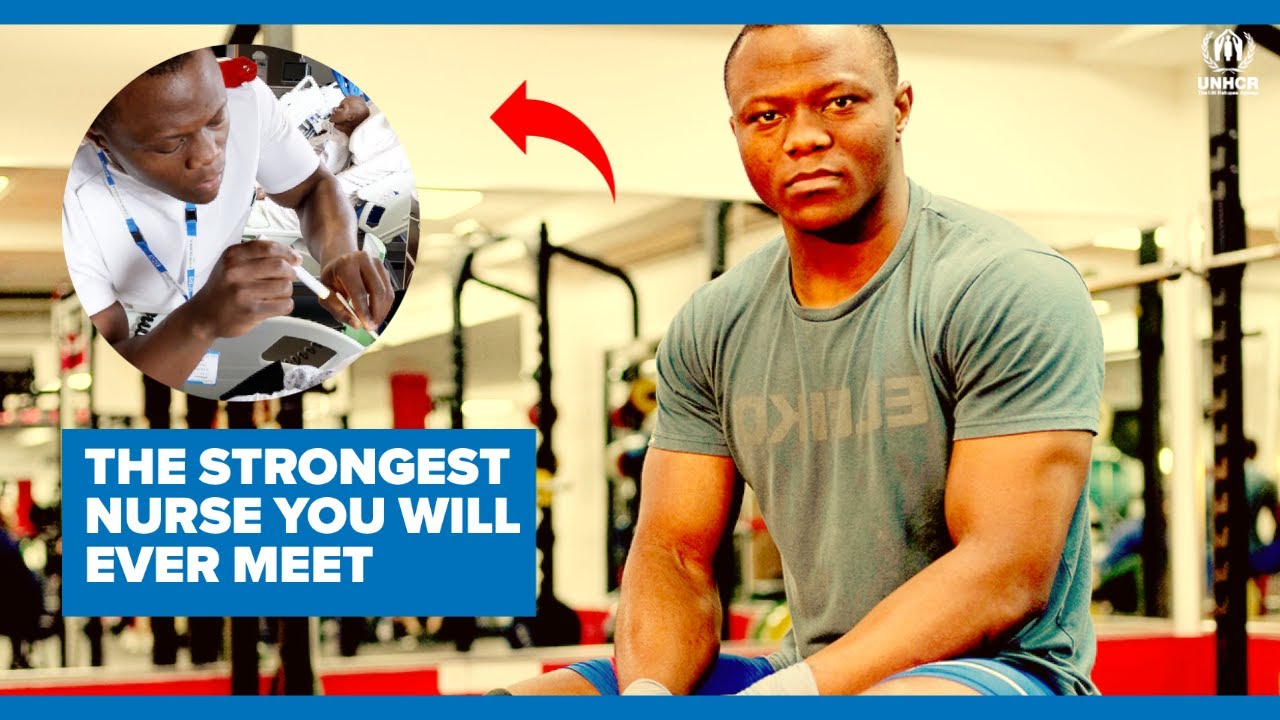 Olympic weightlifter
In Birmingham, Chatchet eagerly waited for his asylum application to be approved, and he battled depression during this time as well. But weightlifting provided a lively emotional outlet and source of motivation, and he began entering British regional competitions.
After being granted refugee status, he set records and won weightlifting titles at British, English and British universities and colleges in 2017, 2018, and 2019.
Desiring to give back to the community and inspired by the doctors and nurses who supported him in his darkest times, Chachette decided to study nursing and graduated with a first degree in mental health nursing from Middlesex University.
He trained regularly in the university's gym four or five times a week, but was able to balance it effectively with his studies, said one of his professors, Lawrence Dudze, senior lecturer in mental health at the university.
"I'm a nurse by day and a weightlifter by evening," Chatchat said in a January tweet. I studied nursing to give back to the community that supported me. Not only will hope give you the courage to fight back, but it will also boost your mental health."
Dadzi said he was a focused and assertive student, as well as a good listener – a vital quality of a mental health nurse.
His teacher said that Chachit's refugee background and struggles with depression gave him sympathy for patients. "He is able to understand people with this condition, and he is able to understand them better. He also feels that he can also give back."
Dadzi said Chachette did not broadcast his major athletic achievements. The university has been putting up posters of him around the campus to celebrate his victory, but "unless you see the pictures, you won't know," he said. "He won't talk much about it."
He started lifting weights when he was young after seeing a picture of his cousin's father lifting weights, and he says it's more than just a sport to him.
"My message to the other refugees is to believe."
"In weightlifting, you meet people and become a social thing. It is an addictive sport," he said in an interview with Sky Sports. "It's fun, it's easy to measure your progress and achievements. Every day you go to the gym, you learn something, whether it's technique, whether it's improving two kilograms. There is always room for improvement, improving your mental state and feeling of accomplishment. "
In Tokyo, Chachit, who speaks French and English and admits he loves sweets, will compete on Saturday in the 96kg category. His goal is to lift 190kg in the snatch and 230kg in the clean jerk. His motto in life is "Plan and work hard to achieve your goals".
The Refugee Olympic Team is "…a team of hope," says Chatchet.
"My message to the other refugees is faith and optimism," he said. "Today may be difficult but the future may be brighter."
Post on Facebook
Share on Twitter