BYU forward Mikaylie Moore celebrates a goal against South Carolina during the Elite Eight in the NCAA Championship, Saturday, November 27, 2021 at Southfield in Provo. (BYU photo)
Estimated reading time: 4-5 minutes
PROVO – In achieving a result never achieved in the history of BYU women's football, the Cougars did what they have done all year: they scored first and scored often.
The last call was almost anti-climate, but the moment was 27 years in the making.
Michaela Coluhan had two goals and an assist, and McKelley Moore added a brace as well to lead BYU's No. 4 women's soccer team to a 4-1 victory over South Carolina in Saturday night's Elite Eight game in Southfield.
Cameron Tucker and Breckin Muzingo both have assists in BYU (17-4-1), which has advanced to face West Coast Conference contender and Governor National Champion Santa Clara in the NCAA College Cup semifinals next Friday, December 3 at Stevens Stadium in Santa Clara. . Clara, California. Florida State and Rutgers will play another semi-final match.
It's the first time since 2002 that the West Coast Conference has sent two teams to the College Cup.
"We're very competitive. We're ready to take on anyone," said Colohan, the senior who is benefiting from an extra year of eligibility provided by the COVID-19 pandemic after being selected by the Orlando Pride in the 2021 NWSL draft. . "And we're glad it's Santa Clara; we're ready for them.
"And who better to do it against our opponent in the conference?"
🚨 GOOOOOOOAAAAAALLLLLLLL

.Tweet embed Already at the top thanks to an incredible play by Michaela Kolohan‼️#BYUwSOC#gokuzpic.twitter.com/f923KZCnwk

– BYUtv Sports (@byutvsports) November 28, 2021
Some of the words BYU Principal Jennifer Rockwood used to describe the historic occasion were blessed, proud, and humble. But mostly, she was excited — and perhaps too much, as the ever-present coach stooped under the emotional weight of Coluhan in midfield.
"I've been here since I was 18 as a student, and it's been a long ride," said Rockwood, whose team beat the Gamecocks 26-5. "It's fun to see us finally make it to the Final Four after all these years."
Rockwood built the program from the ground up, from the club's program as a teenager to the moment she received an NCAA penalty in the 1990s to the present day – arguably the largest in the program's history. From all-American to conference titles, one goal eluded one of BYU's top team sports on campus: a place in the College Cup, and with it, a shot at a national title.
Not anymore.
"I'm so proud of these guys and so excited for these girls," Rockwood told BYUtv. "Hopefully we have two more games; we're excited to go to Santa Clara.
"I think this team has really come together, and we attack as well as defend. We have some very experienced players, the chemistry is great, we have a lot of fun, and we put everything on the field."
In front of a large crowd at South Field of sold-out 4131 less than four hours after tickets went on sale earlier in the week, the Cougars did what they had always tried to do: score early, score again.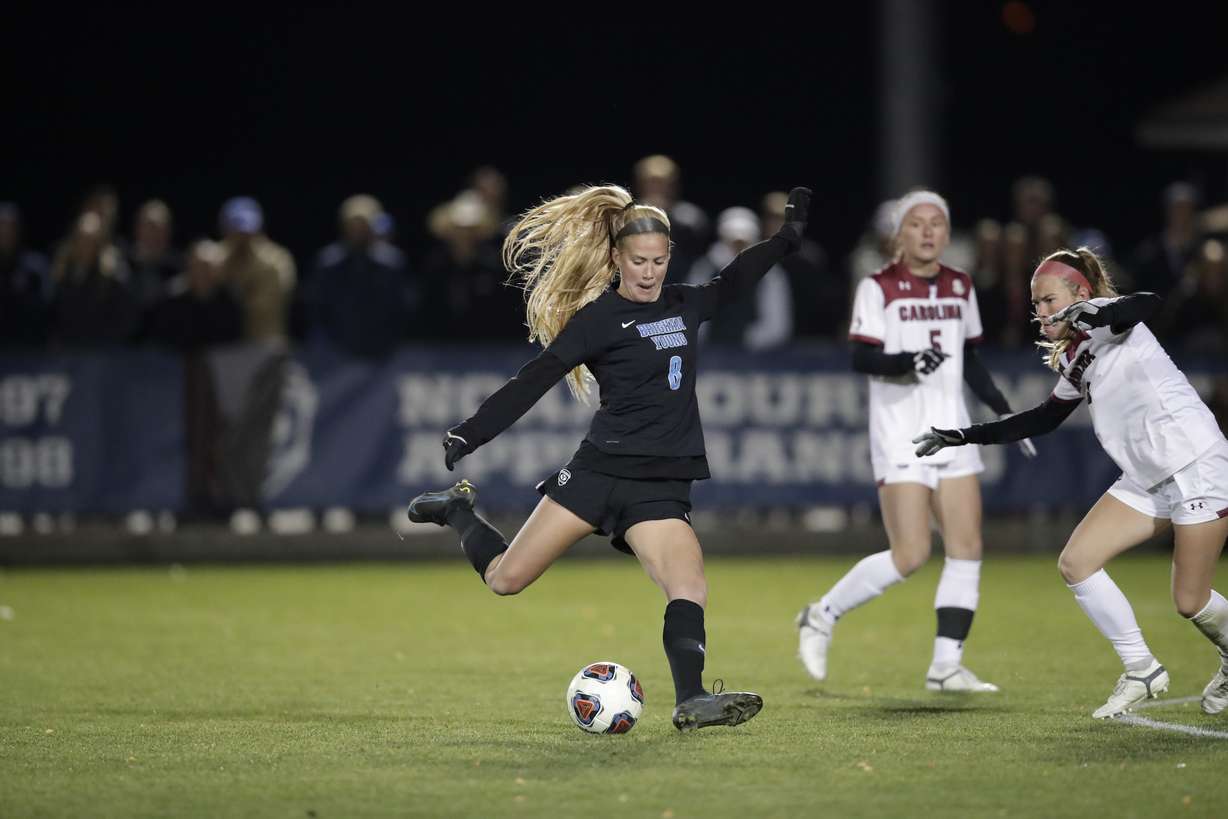 The nation's biggest goal-scoring offense put on a show for the home crowd a week after defeating Alabama and top-ranked Virginia in Charlottesville.
"We were lucky to have another match on the schedule, and we were so lucky to do it in front of our fans," said Colohan.
Culuhan made the Cougars' first charge, pulling a losing ball out of the Gamecocks' 18-yard box and rolling the counter before finding Moore for the opening goal in the third minute.
But BYU did not sit down from there.
The Cougars outplayed South Carolina 7-2 in the first 15 minutes, refusing to allow a shot on target before Coluhan doubled the advantage. Bracken Mozingo found Cameron Tucker in ample space before Lone Peak's older Davis High found wide open in the middle of the box to go up 2-0 in the 15th minute.
Corinna Zulu jumped behind the backline in the 40th minute, finishing off her fourth goal of the season after BYU goalkeeper Cassidy Smith to pull the Gamecocks down within 2-1 at the end of the first half.
That was the only shot on target in the first half against BYU, which beat South Carolina 11-4 before the break.
🚨 Another one for Colohan 🚨Tweet embed He leads 3-1 with another score straight out of the gate#BYUwSOC#gokuzpic.twitter.com/f5I6fT80Ey

– BYUtv Sports (@byutvsports) November 28, 2021
But what Rookwood called a "silly mistake" in the first half made BYU stronger. Colohan scored the second goal less than a minute into the first half – then fired back with Tucker and Mozingo for a fine cross pass into the box that Colohan easily finished.
Moore scored her double in the 60th minute, finishing off a pass from Olivia Wade to lead the Cougars 4-1 en route to their first Final Four appearance in program history.
The rest was just a formality as BYU grabbed the Gamecocks with a single shot on goal, outperforming the guests 15-1.
"It's a dream come true," Tucker said. "We played really well, our team played really well together. We couldn't ask for more. Our team chemistry is really amazing.
"I feel like that's what makes us special."
×
Pictures
Related stories
More stories you might be interested in
.